MY BOOKS
Creature di Gomma – La favola di Venezia 

Published in 2011, this book is not just an updated catalog, but collects a lot of information on production,  history, and Italian and European manufacturers. There is also an entire chapter dedicated to Carosello and much more.
All texts are translated into English.
The whole is accompanied by an entirely photographic section, which sees our rubber friends set in wonderful Venice.
"Creature di Gomma – The fable of Venice", in addition to being a valuable guide for collectors, is a show not to be missed because it amazes, stimulates the imagination and suggests the harmony of silence to make us enjoy these beautiful photographs of Venice rediscovered through the thousand expressive features of these aged rubber sculptures.
Creature di Gomma – Catalog of Rubber puppets from years '50s to '80s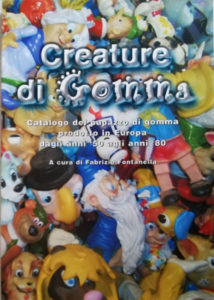 Released in March 2003, "Creature di Gomma" – It's the first catalog to be published about the rubber puppets of the '50s,' 60s, '70s,' 80s.
The book, in addition to reporting the cataloging of all the items owned until then, also reports a descriptive part in which we talk about the history of the rubber toy, the main production houses and many curiosities.
All texts are translated into English.